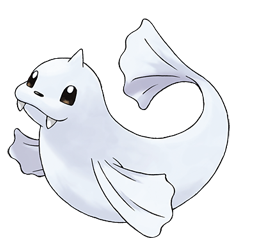 Dewgong
 ♂

50%

   ♀

50%

   

pl. Dewgong

  National Pokédex No: #087


  Sea/ocean 
Lifespan
Unknown
Average height
5' 07"
Average weight
264.6 lbs
Subspecies
Sea Lion Pokémon
Dewgong is a species of Pokémon that resembles a white seal with ice-based abilities. Seel evolves into Dewgong at level 34.
Dewgong was originally going to be called 'Manaty'.
Dewgong can know 2 OHKO (one hit knock out) moves: Sheer Cold and Horn Drill.